The Texas A&M School of Law advocacy program is deeply saddened by the passing of longtime mock trial coach, Douglas Greene.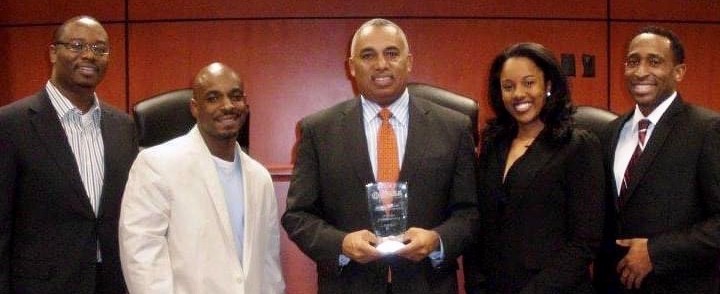 Douglas Greene (center) and colleagues celebrate an award.
Doug coached over 20 mock trial teams since 2010. He coached teams that advanced to the national finals for nine consecutive years, and his accolades included regional championships and best advocates. Doug poured his heart and soul into mentoring and coaching our students and loved every minute of it. His enthusiasm for advocacy and coaching was contagious. Doug touched the lives of so many students.
According to Jennifer Ellis, Director of Advocacy Programs, "Doug was an amazing coach and mentor who motivated the students to reach their highest potential, but most of all he was a caring and kind friend to all. His loss will leave a permanent void in our program and in our hearts."
Prior to coaching mock trial, Doug taught trial advocacy at the law school. Professionally, as equity partner at the Greene Law Firm, Doug specialized in complex Federal criminal and civil litigation. He specialized in white collar criminal defense, tax investigation, public corruption and corporate fraud investigations.
Doug won an acquittal in the largest corporate environmental prosecution in U.S. history and frequently lectured on trial strategy. He attended Howard University School of Law in Washington D.C.