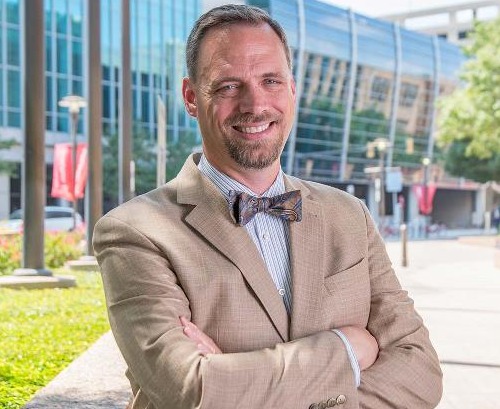 Texas A&M Professor Brian N. Larson receives the Aggie Allies Rainbow Award this week. The Rainbow Award, sponsored by Aggie Allies, recognizes an individual who has demonstrated a commitment to diversity by serving as a role model and contributing to the education of the Texas A&M University community regarding LGBTQ+ people and issues. Award recipients receive a commemorative item and a monetary award.
According to law school student and OUTLaw student organization president Lora Naismith, Larson encourages networking events that are "crucial for younger LGBTQ+ law students." The networking events expose students to various practice areas and diversity and inclusivity efforts in the community.
Serving on the board of directors of the Dallas LGBT Bar Association, Larson furthers its mission to promote awareness of LGBTQ+ issues and to advocate for equality through his advocacy of OUTLaw. His support allows OUTLaw students to undertake initiatives aimed at reducing inequities.
The student group hosts a meeting in August to greet and welcome new LGBTQ+ students and allies and recently hosted a panel on the evolution of LGBTQ+ laws and discussed foster care and adoption for LGBTQ+ families.
Larson collaborated with a second-year student in 2019 to create a continuing legal education session for lawyers titled, What's Your Pronoun? In addition, he explains the challenge of pronouns in his blog. where he asks readers to advance a climate of respect for others by taking care with pronouns–"identifying preferred pronouns in signature blocks and creating mechanisms–such as blank spots on hiring forms–for others to do the same."
"We can talk together, perhaps using new and unfamiliar language–both correctly and incorrectly–with an assumption that, when in doubt, we presume the speaker has good and respectful intentions," says Larson.