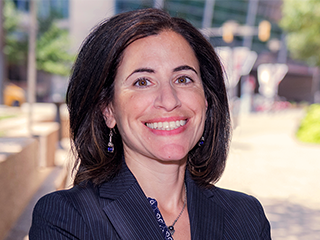 Texas A&M University School of Law Professor Fatma Marouf is elected to the American Law Institute (ALI). The ALI is the "leading independent organization" in the U.S. producing scholarly work to improve the law.
Celebrating over 90 years of existence, the Institute is made up of 3,000 judges, lawyers and law professors from the United States and abroad. The ALI drafts, discusses, revises and publishes Restatements of the Law, Model Codes and Principles of Law that are influential in the courts and legislatures and in legal scholarship and education.
ALI is the leading independent organization in the United States producing scholarly work to clarify, modernize, and improve the law. By participating in the Institute's work, its distinguished members have the opportunity to influence the development of the law in both existing and emerging areas, to work with other eminent lawyers, judges, and academics, to give back to a profession to which they are deeply dedicated, and to contribute to the public good.
According to the Institute, the integrity of the people in the organization ensure quality. Careful analysis vs. personal preference is the common practice of members when discussing uncertainties.
Supreme Court Justice Sandra Day O'Connor said at an ALI annual meeting in 2002, "This is the most prestigious legal group in the United States. The American Law Institute is the leading institution in forming written expression of legal principles that have evolved in many areas of the law."
To learn more about the ALI, click here.