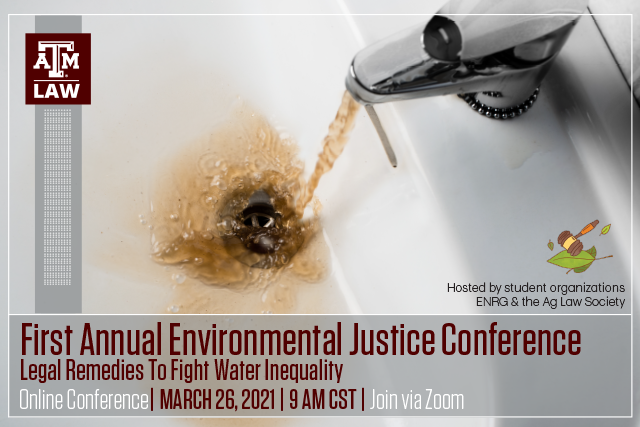 Texas A&M School of Law student organizations ENRG (Energy and Natural Resources Group) and the Ag Law Society are hosting the first student-led environmental justice conference for the law school. This year's focus is Sandbranch, Texas, an unincorporated community 20 minutes southeast of Dallas where the residents rely largely on bottled water. According to an article published by The Guardian in 2017, the town has not had running water, sewage service and trash pickup for at least 30 years. The one-day, virtual conference features Sandbranch residents, legal practitioners and educators.
"We hope this will be the start of something new at the law school. It's our job as Aggies to shed light on the issues of the time and advocate for equality with our whole hearts," says Courtney Gately, third-year law student and president of the ENRG.
Titled Understanding Water Inequality and How the Legal Field Can Play a Role in Providing Water Access to Historically Disenfranchised Communities, the conference will expose registrants to a day of learning, intense discussion and solution-seeking.
Event Spokesperson: Destiny Rauschhuber, President, Ag Law Society – drauschh@tamu.edu
Pictured above: Conference Co-Chairs Courtney Gately and Destiny Rauschhuber
While some of the panelists are attorneys, they will be discussing the law generally, and nothing in the conference should be considered as legal advice. Attendees should consult their own legal advisor to address their own unique circumstances.
About the Energy, Environmental, and Natural Resource Systems Law Program (EENRSLP) at Texas A&M School of Law
Natural resources are an integral and undeniable component of modern societies globally. These resources are critical for energy, agriculture, manufacturing and economic development in general. Our natural environment is a highly complex and integrated system, and sound decision-making related to the sustainable management of natural resources and the environment requires a broad and interdisciplinary approach. Acknowledging the centrality and complexity of natural resources systems, the Energy, Environmental, and Natural Resource Systems Law Program (EENRSLP) at Texas A&M School of Law endeavors to train and offer real world experience to students on law and policy issues related to exploitation, management and conservation, and advance research on natural resources that connects with other disciplines and with communities worldwide.